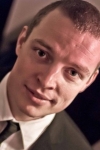 Name:
Uffe Nygaard
Department/University:
Department of Dermato-Venerology, Aarhus University Hospital
Year for starting training:
2012
Description of main project during training:
I have finished my first year of specialist training, but have taken a 3 year leave from specialization to do a ph.d. The project is entitled "Inflammation and Skin Barriere Dysfunction in Atopic Dermatitis". It is focused on exploring cytokines as IL-25 and IL-33 and how these proinflammatory pathways interact with the development and maturation of the skin barrier.